Asset Analysis Is The First Step
Get A FREE Asset Analysis
Our free asset analysis will tell you how much of your estate is at risk, how much we can protect, and how long it will take to protect it.
Medicaid Applications Providing Peace of Mind in a Crisis
An asset protection trust is another way to protect assets for Medicaid planning.
If a spouse or parent suddenly needs to be in a nursing home, decisions need to be made. Before there is time to adjust to this abrupt change in circumstances, a spouse or child is required to act. This is a crucial moment for your family when the wrong decision can cost you. Whether you're the one who will be staying home, the one who needs nursing care, or their child, it is imperative at this stage to get good legal advice.
An asset protection trust also protects the nursing home Medicaid applicant's right to live in their house and tax benefits.
Mary Soyka can determine quickly if you qualify for Medicaid or if with our help, you could qualify for Medicaid.
While the Medicaid rules are too complex to summarize in this brief description, generally, it is government program that will pay for nursing home care, but only if the applicant has very little income and assets. How little? The limits are adjusted periodically. So in order to qualify for Medicaid the applying couple or single person must have less assets and income than the limits allow.
An asset protection trust can also work the same way as a will to distribute trust estate assets after the death of the Medicaid applicant.
Unexpected Nursing Home Care
A sudden need for nursing home care is a stressful event. You need to be able to find care and afford care. Unfortunately, the Medicaid application process is complex, and delay can cost you hundreds of thousands of dollars.
How do you qualify?
Medicaid rules specify the income and asset limits for a couple when one of them is applying for Medicaid. The limits are different for single people, as well as when both spouses of a couple are applying. The complexity of the Medicaid system makes it especially important to find qualified legal assistance.
Each state specifies a maximum allowed income for individuals and couples in order to qualify for Medicaid. Also, the applicant's total assets cannot exceed a specified amount called the Individual Resource Allowance. The Individual Resource Allowance in NY as of the writing of this article is $2000 for individuals.
Retirement accounts can be exempt in some states if certain criteria are met.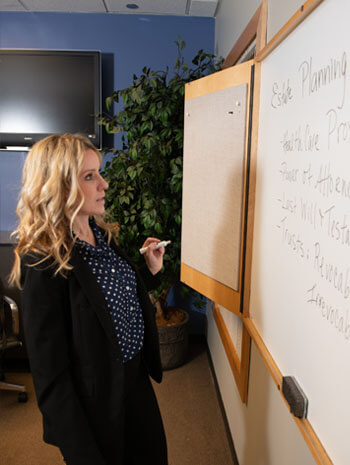 Is this house protected?
Exempt Resources May Not Really Be Exempt
An asset protection trust can still sell real property, securities and other assets owned by the trust if necessary. The sale proceeds stay protected in the trust.
Although some of your property will not be counted against you, such as a car, or a house under a certain value, those exemptions are deceiving. Houses have carrying charges. The money you must spend down on nursing home care to get below the Resource Allowance limit could leave you without enough to money to pay the carrying charges on your house. Also, if a single person does exempt their house, and qualifies for Medicaid, Medicaid will have a lien on the house for the cost of the nursing home care.
An asset protection trust can also protect other assets, not just the residence.
How much can we keep?
Married vs Single Persons Applying for Medicaid
With married couples the process has added complications. For the nursing-home spouse to qualify for Medicaid in any state, the applicant's at-home spouse can keep only half the couple's assets up to a Maximum Community Spouse Resource Allowance.
A Medicaid application prepared by an asset protection attorney can protect your home and assets from the high cost of nursing home care even in a Crisis case. Contact us for help!
How To Apply For Medicaid
A process for application that protects you
Medicaid is a complex set of rules and exceptions. The information provided here is of a general nature. It is not meant to be legal advice or create and attorney-client relationship. It is highly advisable that you seek competent qualified advice.
Obtain an asset analysis first. Any article on how to apply for medicaid should begin there. The initial question is should you apply for medicaid? Applying before you calculate the penalty period is the worst thing you can do. But because it is time sensitive, many people rush the process. And it costs them.
Asset analysis is the first step. An asset analysis will answer important questions. How much of your estate is at risk? How much can be saved? Even in a crisis situation, having professional guidance can preserve anywhere from sixty to one hundred percent of your assets, depending upon your situation.
An asset protection trust protects from creditors other than Medicaid.
Medicaid Services We Specialize In